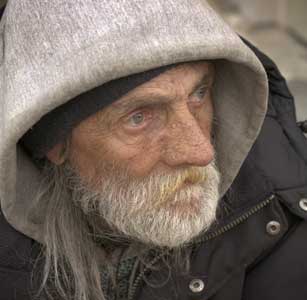 Going on vacation or a business trip? Staying in a hotel? How about going to the dentist?

Remember to bring in your unused, unopened toothbrushes, toothpaste, toiletry items, etc. all year long for Family Packs put together by the women's group. Place them in the large wicker basket outside the sanctuary doors marked UMW Family Packs.

Family Packs are put together for area families and given out at Christmas time.
We accept donations for the South King County Food Bank as well as bulk food donations for My Sister's Pantry.
We support:
We sponsor and host:

Helping Others
You, my brothers, were called to be free. But do not use your freedom to indulge the sinful nature; rather, serve one another in love. -- Galatians 5:13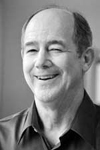 Sunrise United Methodist welcomes Gary O. Steeves, M.Ed of Samaritan Center of Puget Sound to Sunrise. Gary is providing faith-integrative counseling to the community and has worked with Samaritan as a STB pastoral counselor since 1986.

To set up counseling, please call Gary directly at his voice mail:

• (206) 957-4707

• (253) 981-6575

Licensed Mental Health Counselor (LH00004701)


Education:
M.Ed., University of Puget Sound, Tacoma, 1986
S.T.B., Sacred Theology, Angelicum University, Rome, Italy, 1973
B.A., Philosophy, Gonzaga University, Spokane, WA, 1970
Gary's professional interests and specialties are:
Expertise in integrating mental, physical, emotional and spiritual well being
Workplace issues: including stress, anger management and conflict resolution
Growth-oriented approach in doing individual, couple and family therapy
Preparation for marriage, including remarriage and blended family issues
Trained in administering the "Prepare and Enrich" Inventory that assess couple's strengths and growth areas
Emotionally Focused Therapy for Couples
Certified leader for Active Parenting and Active Parenting of Teens video-based programs
Adolescent counseling, gang involvement counselor
Divorce and separation
Educational presentations, seminars and retreats in workplace and church settings
Lifespan Integration Practitioner
Gary is available for counseling services on Mondays, 12:00 to 5:00 pm. at Sunrise.
Other locations:
• Kent — Washington Baptist Convention, 409 Third Ave. S., Suite A
Monday A.M., Tuesdays A.M. ; Wednesdays (all day), Friday AM
• Renton — Fairwood Community United Methodist Church, 15255 SE Fairwood Blvd.
Tuesdays PM, and Thursday (all day)

My Sister's Pantry is a food bank sponsored by the First United Methodist Church in Tacoma. Patrons can receive groceries and produce, and receive assistance from the food bank as well as enjoy a hot meal. Every year we work 4 or more Saturdays helping to prepare and serve a daily meal, filling grocery orders and sometimes working in the clothing bank.
We are currently collecting gently-used clothing. There is a collection area by the backdoor of the church. You can leave your donations there for pick-up or contact the church office (253) 815-6925.
We also have a special paper recycling bin. The proceeds from what we collect goes directly to My Sister's Pantry.
If you'd like to learn about My Sister's Pantry firsthand, visit them on the web at
mysisterspantry.org

.
Sunrise has an active prayer chain of prayer "warriors". If you would like to be added to our list of active members, please call Tisha in the office.

May we pray for you? If you have a joy or a concern you would like us to pray for, please call us at the office at (253) 815-6925 during office hours. Outside of office hours, call the office and leave a message. Or you can e-mail Tisha at office@sunriseunitedmethodist.org. Please include your name, the name of the person to be prayed for and what you would like us to pray about.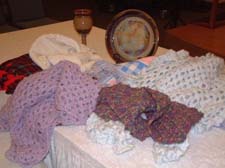 Care and the love of knitting or handcraft have been combined into a prayerful and powerful ministry that reaches out to those in need of comfort and solace.

Members of our church make these wonderful and comforting creations with prayers for usually an unknown recipient. When completed the whole congregation prays over them for their recipients.

Shawls are given to comfort those who are undergoing medical procedures, who have had a great loss or under great stress. They are also given for times of celebration such as marriage, bridal showers, or graduation.